Gran Canaria Shore Excursion: Las Palmas Card
Europe » Spain » Canary Islands » Gran Canaria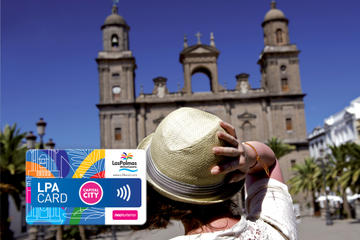 Duration: 1 day
Departs: Gran Canaria, Spain
Price from USD 32.36
Book Now
When your cruise ship docks at Las Palmas, head into town to sightsee independently with the Las Palmas Card! Enjoy free entry to top Las Palmas attractions and make use of discounts on purchases in select bars, restaurants and shops. Valid for 24 hours from time of first use, the Las Palmas card includes entry to Casa de Colón — a museum dedicated to Sir Christopher Columbus — the Cathedral of Santa Ana and more.
With your shore excursion city pass, enjoy free entry to top city attractions like Casa de Colón – a museum built on the spot where Sir Christopher Columbus was often said to visit. Containing exhibits relating to the period of Spanish exploration as well as the explorer himself, the museum is well worth a visit! You can also use your city pass to discover the Canary Island's history at Museo Canario, admire architecture at the Cathedral of Santa Ana, and lots more.

Save on entrance fees, meals and drinks in select restaurants, bars and clubs; giving you everything you need to enjoy the city at ease!

Free Entry to Select Las Palmas Attractions:

Casa de Colón
Casa-Museo Pérez Galdós
Castillo de la Luz
Cathedral of Santa Ana
Elevator at the Cathedral of Santa Ana
Jardín Botánico de Vierta y Clavijo (botanical gardens)
Museo Canario
Port Market (Mercado del Puerto)
Teatro Pérez Galdós
Save on Meals at Select Las Palmas Restaurants:
Bodegón Lagunetas: 10% savings
Bienmesabe: Free wine and dessert with the 'special' tapas menu
Hotel Parque: 10% savings in the restaurant
Luigi Miura: Free coffee and liquor with a meal
La Terraza: 10% savings
Save on Las Palmas Nightlife:
Casinos Las Palmas: free entry and drink
Royal VIP: free entry and a glass of sparkling wine
Sidney Bar: five Coronita beers for a discounted price
Save on Shopping in Select Las Palmas Stores:
Estadio Sport: 10% savings
Jeans Gallery: 25% savings
Perfumería Arkay: 30% savings
Worry-free Shore Excursion:
Many of the attractions mentioned on this card are located within a 20-minute walk to the cruise port, so you determine the time you return to your ship in Las Palmas. Please allow yourself ample time to enjoy the card and ensure your timely return to the port. This excursion is not covered by our worry-free policy.
« All Activities